231 Moorestown Drive · Bath, PA 18014
Phone: (610) 837-8792 · Toll Free: (800) 292-RIMS · Fax: (610) 837-8967
Hours: Mon - Fri 7:30am-5pm ... Sat 8am-12noon ... Sun Closed
E-mail:wccpa@erols.com
Easy Driving Directions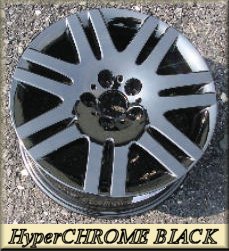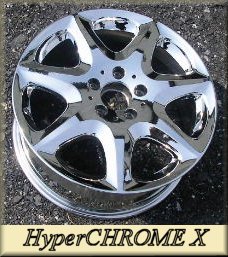 HyperCHROME X & HyperCHROME Black
- Better than Chrome!
Finally, a beautiful bright durable low-maintenance custom Specialty Powdercoat Finish for OEM and aftermarket wheels which WHEEL COLLISION CENTER of Bath PA (WCC) can offer with about 4 week turnaround.

This new Patent pending finish won't pit, peel, corrode or leak the way chrome-plated wheels can. In fact, this new light weight PVD powdercoat chrome finish carries a TWO (2) YEAR WARRANTY against defect.

Contact WCC today for more information regarding HyperCHROME X, HyperCHROME Black, and our Brilliant Line (HyperSilver, HyperBlack and Chrome Shadow) European Specialty Powdercoat in-house refinishing capabilities.
HyperCHROME X - HyperCHROME BLACK
PRICE SCHEDULE
Wheel Diameter
HyperCHROME X Price
HyperCHROME BLACK Price
13" - 16"
$255/wheel
$275/wheel
17" - 18"
$275/wheel
$295/wheel
19" - 22"
$325/wheel
$345/wheel


Please note that WCC CANNOT apply HyperCHROME to previously chromed wheels. Also, pricing for aftermarket/custom wheels, and exotic makes (eg. Aston Martin, Ferrari, Lotus, etc.) is typically higher, and can be quoted on a case by case basis ... simply call or email for a price estimate.

This pricing assumes that you supply 4 wheels in a standard painted or powdercoated finish. However, if your wheels are multi-pieced, in need of straightening or welding, or require other additional work, your cost will be somewhat higher. Call or email us at WCC to get a price estimate.

Call us, Toll Free at:
1 - 800 - 292 - RIMS (7467)



Also check out our other Specialty Powdercoat Finishes...





Created and Maintained by GBS Teleproductions
Lehigh Valley, PA

This page, and all contents, are Copyright (C) 1996-2022 by Wheel Collision Center Bath, PA USA.