7286 Penn Drive · Bath, PA 18014
Phone: (610)837-8792 · Toll Free: (800)292-7467 (RIMS) · Fax: (610)837-8967
Hours: Mon - Fri 7:30am-5pm ... Sat 8am-12noon ... Sun Closed
E-Mail: wccpa@erols.com
Homepage: www.wheelcollision.com
E-mail:wccpa@erols.com
Easy Driving Directions
MOTORCYCLE WHEEL REPAIR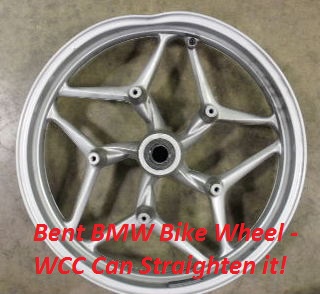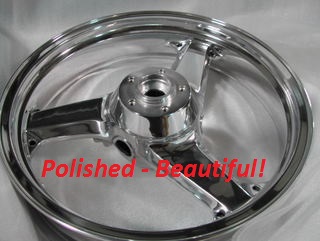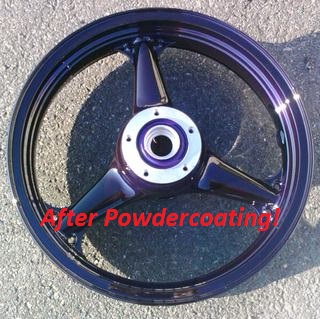 Wheel Collision Center has been in the wheel straightening business for 24 years, since 1990.
Wheel Collision Center, with its patented process, offering factory tolerance alloy wheel straigntening
for all car and light truck wheels, is widely considered to be one of the best around the country.

Wheel Collision Center is now offering the same straightening and high qulaity finishing to customers who may
have a need for motorcyle wheel repair. Our straigntening process for motorcyle wheels is derived from our
automobile wheel repair process, and the resulting results offer the same high quality.

Wheel Collision Center will not repair any wheel that would not be considered safe when complete.

Please note that the finish may be affected in the repair process. If you would like to have the wheel
refinished as well, there would be an addional charge over the straightening/repair cost.

Motorcycle Wheel Repair Pricing and Timing:
Straighten Motorcycle Wheel $100-200


Welding Required ------------ +$50-100


Timing -------------------------- 1-5 Days


Refinishing ---- Additional based upon finish


Wheels should be delivered without tires


Pricing to be determined upon receipt and inspection of wheel




Please call WCC's Sales Representatives for any further information.
We will be happy to assist you with any questions or needs you may have.

Call us, Toll Free at:
800-292-7467 (RIMS)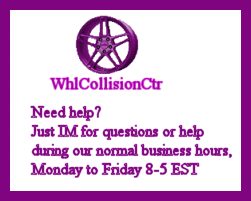 This page, and all contents, are Copyright (C) 1999 - 2015 by Wheel Collision Center, Bath, PA, USA.
Home