231 Moorestown Drive · Bath, PA 18014
Phone: (610) 837-8792 · Toll Free: (800) 292-RIMS · Fax: (610) 837-8967
Hours: Mon - Fri 7:30am-5pm ... Sat 8am-12noon ... Sun Closed
E-Mail: wccpa@erols.com
Homepage: www.wheelcollision.com
E-mail:wccpa@erols.com
Easy Driving Directions
Sparovic Guenter (Austria) writes:

"Ed, please be informed that today I personally received the rims sent (for my Infiniti FX)! I had a look at the units, and they look great!!! Colour and finishing are exactly according to my expectations. Perfect job done! Thanks to you and your team!

Best regards,
Gunter"
Excerpts from National Automotive Magazines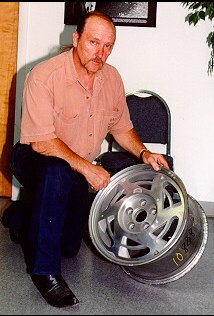 Company Profiles
This Web Site created by GBS, Lehigh Valley PA
This page, and all contents, are Copyright (C) 1996-2022 by Wheel Collision Center, Bath, PA, USA.