231 Moorestown Drive · Bath, PA 18014
Phone: (610) 837-8792 · Toll Free: (800) 292-7467 · Fax: (610) 837-8967
Hours: Mon - Fri 7:30am-5pm ... Sat 8am-12noon ... Sun Closed
E-Mail: wccpa@erols.com
Homepage: www.wheelcollision.com
E-mail:WheelCollisionCenter
Easy Driving Directions
SHIPPING & ORDERING INFORMATION

Stephan Wilkinson (NY)writes:
"Just wanted to let you know how happy I am in my dealings with you -- you just sent me a Volvo wheel to replace one I'd sent you for repair, after pointing out it would be cheaper than repairing my wheel. Your work is of course impeccable, as I knew it would be, but it was also fast, courteous (Kim I think was the name of the woman who telephoned me) and had the obvious aim of helping me rather than turning the biggest profit for you. Thank you.

I should also mention that I was sent to you by my favorite technician, Tom Florio at Advanced Automotive in Vails Gate, New York, who spoke so highly of your work that I immediately decided to deal with you rather than a well-known Long Island company that I've used in the past.
Stephan Wilkinson."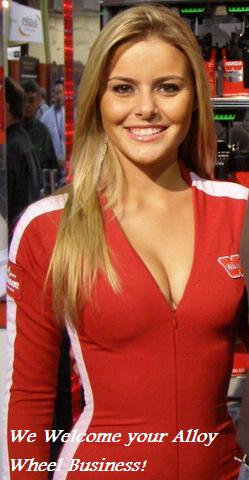 Nationally recognized WHEEL COLLISION CENTER straightens and

refinishes aluminum wheels. Professionally repairing and refinishing them

for a fraction of the cost of new wheels, Guaranteed! Our patented

process is backed by a two and a half year state funded program of

metallurgy studies by Lehigh University Materials Engineering.
SHIP YOUR WHEEL(S) TO WHEEL COLLISION CENTER



To have your wheels repaired: Box up your damaged wheels (or wheels and tires, if more convenient). Send your wheels to the WHEEL COLLISION CENTER by UPS regular ground service (or the carrier of your choice) insured for the replacement value of your wheels (Call 800-PICKUPS for the closest UPS terminal for the lowest UPS shipping cost). Normally, shipping costs are approximately $10 to $30 per wheel, based upon your wheel size, weight and zip code.

Our address is: WHEEL COLLISION CENTER, 7286 Penn Drive, Bath PA 18014.


Please make sure you include your name, company (if applicable), address, daytime telephone number, vehicle and wheel information, and any special instructions or requests. We will call you when we receive your wheels to confirm the exact repair/refinish cost and estimated delivery time. We will not begin any work on your wheels until we receive your approval.


Turnaround time to straighten wheels is typically one to two days, and to refinish wheels is usually a two to seven day turnaround. Normally, you can prepay with MasterCard, Visa, Discover or by check when we confirm the cost of your wheel repair or purchase .... or your wheel(s) can be returned COD - you pay for them when you get them back.
WHEEL COLLISION CENTER also sells refinished, used and new original wheels from our large, growing in-house inventory. Others can often be located for you. Please call or send an E-Mail to verify pricing and availability on our refinished MINT condition wheels.

To ORDER WHEELS:

CALL WCC at

800-292-RIMS
800-292-7467

Thank You for your order!
Mark Thomas of Coronado CA writes:
"Dear Daryl and Ed!

Our father has received the 2004 Audi A6 17" BBS RC wheel and is THRILLED with it! Thanks so very much for your good service and great work!

BEST!,

Mark Thomas"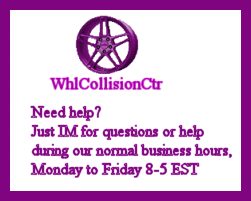 This page, and all contents, are Copyright (C) 1996-2022 by Wheel Collision Center, Bath, PA, USA.