231 Moorestown Drive · Bath, PA 18014
Phone: (610) 837-8792 · Toll Free: (800) 292-7467 · Fax: (610) 837-8967
Hours: Mon - Fri 7:30am-5pm ... Sat 8am-12noon ... Sun Closed
E-mail:wccpa@erols.com
Easy Driving Directions
Straighten
Weld
Polish
Paint
Clearcoat
Chrome Plating
Wheel Inspection
Lughole Repair
Bolt Pattern Redrill
Refinished Wheel Sales
Wheel & Tire Packages
Wheel Locating

We welcome your alloy wheel business!



Looking for a Specific Wheel?
Search our Site by WHEEL
COLLISION Part Number.
For example, type in WCC
wheel number H 2084, or
2006 Chevrolet Equinox.
Click Find. Then Click on the
WHEEL COLLISION Page(s)
that come up in the Search.



WHEEL COLLISION CENTER professionally repairs, refinishes and
recycles damaged alloy wheels at a fraction of their new cost... Guaranteed!
WHEEL COLLISION CENTER'S wheel production facility offers insurance quality wheel refinishing and a limited Lifetime Warranty, as well as custom wheel polishing, painting, powder coating, and chrome plating services. We stock thousands of refinished and used recycled factory alloy wheels, available for sale or exchange. Aftermarket or out of stock factory wheels can often be repaired or located!

WHEEL COLLISION CENTER leads the industry in straightening aluminum wheels, using proprietary machinery and tooling. Our Patented Repair Process assures 100% wheel integrity.

Wrecks, potholes, curbs, or even dropping a wheel can cause damage resulting in it being discarded at a total loss. Scratched, bent, gouged or small sections missing, WHEEL COLLISION CENTER can repair it properly, backed by 2½ years of independent metallurgy testing.

Our expert technicians can straighten or weld damaged areas back to original condition in less time than it normally takes to buy a new wheel. 100% inspection before shipping checks radial run out, lateral runout, and balance to insure the wheel is perfectly straight, so the car rides smoothly.
Roger Chen writes:

"Wheel Collision Center team:
You guys did a wonderful job on my 2003 BMW E39 M5 rims. The turnaround time was incredible -- they were dropped off on Tues and that same Fri, they were on my car. The rims look pristine (had dents and curb rash) and the technician (sorry forgot his name) took a lot of time and TLC to mount, balance the tires and put them back on the car. If I lived closer (drove over 70 miles one way), I would always mount and balance my tires at your shop. Actually, I might drive that far just to have someone who cares about attention to detail and quality work on my car. Will highly recommend your shop to everyone I know and don't know. Keep up the great work.

Roger

The high quality of WHEEL COLLISION CENTER's alloy wheel repair/refinish/recycling process has been featured in:
VW Vortex , SwedeSpeed and Audi World
WHEEL COLLISION CENTER has customers all over the United States . . . automobile dealers, tire dealers, body shops, insurance companies, auto repair shops, hubcap stores, wheel distributors and individual automobile owners. And, daily UPS shipments makes shipping efficient. Or, if you are in driving distance, call us to make an appointment Monday - Saturday to have WHEEL COLLISION CENTER remove, inspect and straighten your original or aftermarket wheel(s) while you wait.

Call us, Toll Free at:
1-800-292-RIMS
1-800-292-7467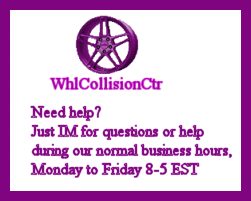 Check out our
WHEEL COLLISION CENTER Monthly Wheel Specials!
Like Us On Facebook!
Wheel Collision Center



This Web Site created by GBS Teleproductions
This page, and all contents, are Copyright 2022 by Wheel Collision Center, Bath, PA, USA.